A passion for horses and truck conversion
Because we are also riders, we know exactly what is best to transporting horses and riders.
Since 1993, the main business of Carrosserie Paillard is to design and build handmade custom-built heavy lorries to transport horses and their riders safely and with all comfort.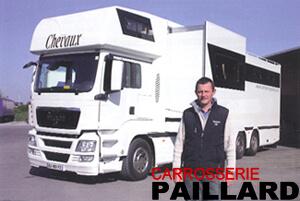 Paillard horse trucks are renowned for their quality and comfort
Visit section 'Your custom built horsebox truck'
Its founder, Stéphane Paillard, who manages also the horse club Haras de la Gerillais, is himself a skilled horseman (Champion of France in dressage Amateur Elite 2009).
He has extensive experience (since the early 1980s) in equestrian competitions and in transport of horses and their riders on the roads of France and in Europe.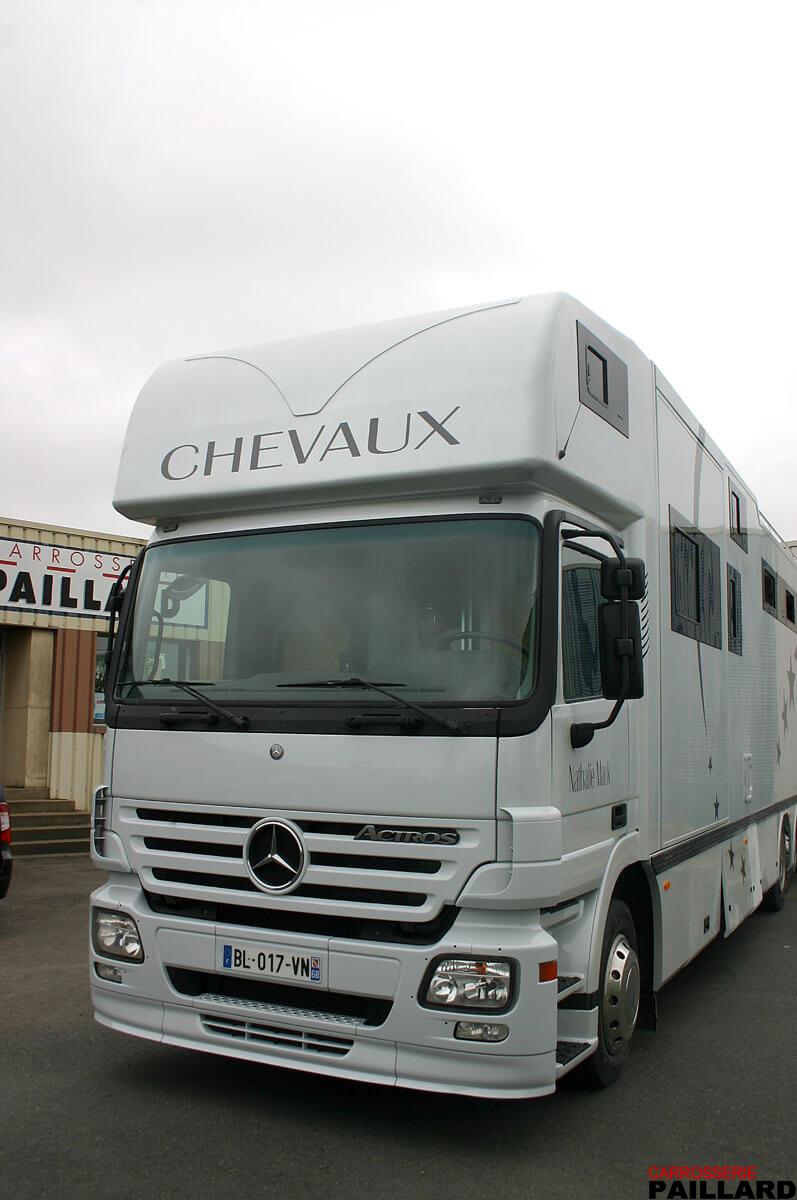 We know how important it is to safely transport horses during their journey in order to keep them calm and peaceful to their final destination, without forgetting their riders who need to travel comfortably to arrive relaxed and in good shape at the site of the competition.
We build custom-built horsebox trucks specifically designed to transporting horses and passengers with maximum safety and comfort.
The Paillard horsebox trucks, which are built to transport from 5-8 horses up to 13-14 horses with their escorts, are known for their reliability, their longevity, their beauty and for their comfort.
The solidity and reliability of our horsebox trucks are foolproof
The horse can be a « strongly destructive » animal. Just look at the vehicles in the paddock at competitions to realize that a lightweight construction can not resist.
All our horsebox trucks are reinforced with special protections applied to tender spots.
On a galvanized tubular structure, we fix a double interior lining made of panels filled with a special blend of rubber reinforced by metal plates.
The interior fittings are independent from the external container due to an approved and exclusive system, with padding and reinforcement of the walls. This system allows full protection of the vehicle and horses.
Safety is reinforced by a padding of the partitions. The armoring against kicks is done with a damper assembly made with rubber, wood and steel that ensures excellent solidity of the horsebox interior and full safety of the horses
The whole becomes indestructible and the Paillard horse trucks are gaining in longevity and reputation by our customers.
Visit section 'Horsebox – Safety and Comfort'
The safety and comfort of horses during their transport are our highest priority
Right from the moment they step onto a Paillard horsebox ramp we have thought of their wellbeing. Entering the horsebox on a surface which gives sure footing means reduced risk for both horse and rider.
The floor of the ramp and horseboxes is surfaced with hard wearing non-slip rubber matting which offers excellent grip. The rubber matting of the horsebox floor is equipped with drainage plugholes to avoid being slippery.
The horsebox ramp is operated by an electric motor with a manual emergency pump.
The partitions can be double or single, fully enclosed or with head access, entirely polyester laminated and fully adjustable by 5 cm increments. At last, our padded partitions are designed to our customers' preferences.
At client request, we can install various equipments for thermal control, heating and ventilation, video surveillance and also piped music
We are taking into account primarily our client's wishes and needs to bring the best comfort to your horses whilst in transit with our bespoke horsebox trucks.
We offer spacious and comfortable living areas for the travelers
Because we know that our customers' horse trucks are like their secondary home, we take great care to provide luxury apartments to their owners.
When you decide on a Paillard horsebox transporter you have the opportunity to create vehicle to reflect your individual taste and style.
All fittings are tailor made to order with efficient equipments and finishes of the highest quality.
We give the priority to an ergonomically efficient and highly flexible living space to provide you the best environment of luxury, practicality and functionality.
The living area can be noticeably enlarged thanks to pop out extensions. These hydraulic extensions are extremely reliable. They are easy and fast to operate.
The layout of the living area depends on the presence or not of this extension option:
The Kitchen area is equipped with handmade tables and furniture: made in materials of high quality veneers with the colors of your choice. We provide various and powerful facilities: a large fridge accompanied by a freezer, the removal of odors through a hood extractor, sink, oven, micro-wave, washing-machine, dishwasher, etc.
The Bathroom area is designed made to measure: a shower space separated from the toilet space with plenty storage space. The teak wood floor brings a touch of luxury.
The sleeping area is lay out following your needs: a fixed bedroom having a door communicating with sitting space, hanging beds or sleeping positions in the extension over the cabin, wardrobe in the entrance, the sliding curtains offer privacy when required, reading lights on the ceiling. No space is wasted.
The relaxing area is fitted out following your desires: sitting space, reception room with a plain table, working space, couch, and armchairs. This is the opportunity for you to create a living room which reflects your individual taste and style with sumptuous fabrics, beautiful leathers, and rich woods. The comfort and leisure equipments are installed at your discretion: TV, Home Cinema, Hi-Fi, internet link, reversible heating / air conditioning, etc.
The technology is at the very best for a perfect autonomy and a total comfort
Power plant with automatic charger and general circuit breaker for energy production.
Important water supply between 100 and 1000 liters, tank for waste water.
Embarked electrical generator.
Hig flow water pump.
Gas or diesel central heating.
Air conditioning.
Rear view camera, satellite dish, fire alarm, automatic extinguishers, etc.
Visit section 'Living space – Private apartments'
Paillard brings to its clients its coachwork industrial facilities along with high-end handmade fittings
The building of your horse truck can be made from a new or used chassis to meet your budget and specification.
Our handmade custom trucks are very aesthetic with designer coachworks and quality paints purchased from the best suppliers like Lechler or Spies Hecker.
We have a very large OMIA paint booth, able to paint two trucks at the same time, which allows us to paint the new trucks but also to make repairs and hue changes at the request of our customers.
The building of modern horse trucks requires a combination of high technology and traditional craftsmanship with a lot of labor and the involvement of several skilled craft men: coachbuilder, electrician, plumber, heating specialist, carpenter, and also upholster for the various fittings, curtains and cushions that are used in the decoration of our clients' apartments. All activities of our craftsmen is coordinated by a foreman.
We have an engineering unit dedicated to the technology watch , to the design of our clients' horsebox trucks and for meeting the specific demands of our customers.
Visit section 'Your custom built horsebox truck'
The building of motorhome trucks 'à la carte'
With the extensive experience and know-how of our teams in the development of the living space of horse trucks, the continued development of our industrial capacity and the extent of the craft men into our firm, we offer our customers, in recent years, the construction and development of custom atypical camper trucks, for all kind of usage, that become true travelling 5 star hotels.
We invite you to discover our many achievements in this area.
If you have a project in this area, we offer you our expertise and our commitment to excellence to meet all your needs and fulfill your desires.
Paillard makes available his engineering capability and his high level know-how in manufacturing horsebox trucks and motorhome trucks for carefully studying your project and for meeting your specific requirements.