Our services for the building of your custom built horse truck or your motorhome truck
We customize your heavy truck in image of your desires.
Project study and design of your custom built truck
Paillard offers his high-level expertise and large experience in horse trucks and camper trucks conversion to carefully study your project in all details and to provide you the best advice in accordance with your requirements.
From the description of your needs and desires, we present our products range and suggest various ideas and options, based upon our long experience in the field, for the design and layout of your custom truck.
Once your specific requirements have been defined, we begin the design and construction of your individual horsebox. We use a semi-monocoque construction on all our horse trucks.
Regarding the choice of the chassis itself, there are two main options:
either our client already owns one,
or, from the requirements, we look for a commercial truck chassis (new or used to meet your budget and specification)
Our hand made custom trucks are very aesthetic with designer coachworks and quality paints purchased from the best suppliers like Lechler or Spies Hecker.
We have a very large OMIA paint booth, able to paint two trucks at the same time, which allows us to paint the new trucks but also to make repairs and hue changes at the request of our customers.
Visit our section Your custom built horsebox truck
Visit our section Your motorhome truck 'à la carte'
Building of the horseboxes
The main features of the space reserved for the horses are the following:
Number of locations: the number of horseboxes can vary from 5 to 14 horseboxes.
Internal structure: the interior fittings are independent from the external container due to an approved and exclusive system, with padding and reinforcement of the walls. This system allows full protection of the vehicle and horses.
Padding and reinforcement of the walls: the armoring against kicks is done with a damper assembly made with rubber, wood and steel that ensures excellent solidity of the horsebox interior and full safety of the horses.
Floor areas: the floor of the ramp and horseboxes are surfaced with hard wearing non-slip rubber matting which offers excellent grip. The rubber matting of the horsebox floor is equipped with drainage plugholes to avoid being slippery.
Access ramp: operated by electric motor with manual emergency pump.
Partitions: double or single, fully enclosed or with head access, entirely polyester laminated, fully adjustable by 5 cm increments, our padded partitions are designed to our customers' preferences.
Other classical fittings are mangers and water tanks, shower and solarium area, racks and awnings.
Comfort and surveillance options: we can install various equipments for thermal control, heating and ventilation, video surveillance and also piped music.
Visit our section Horsebox – Safety and Comfort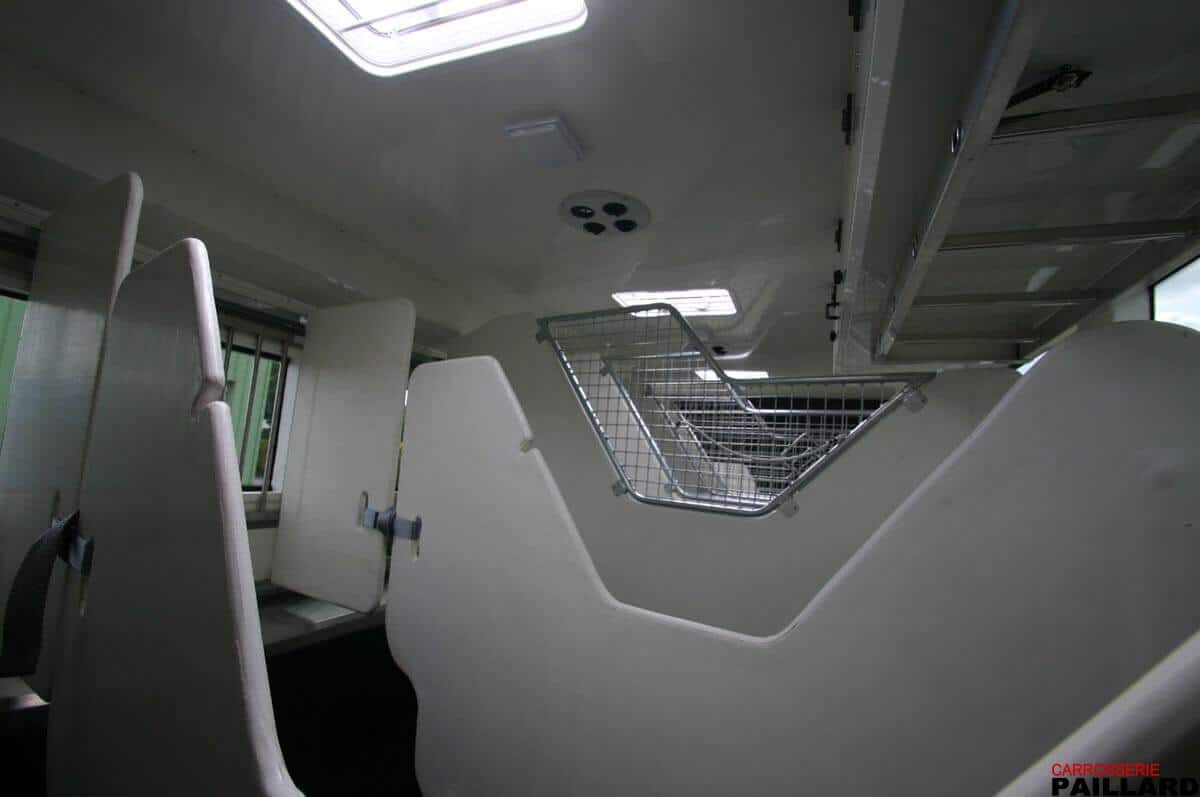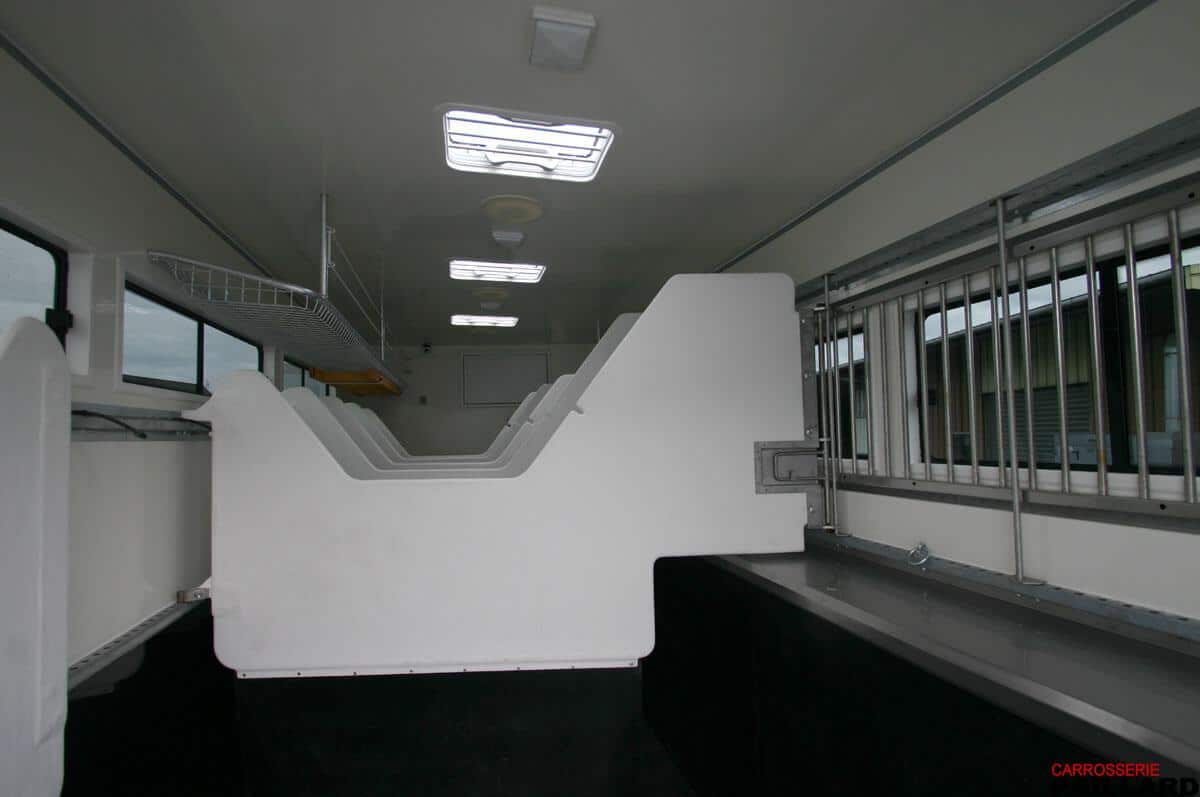 Technical facilities and equipments
Plenty of storages can be installed: outside of each side of the chassis, under the chassis or at eye level. The storage lockers are galvanized, watertight, with power assisted opening.
A single key model is provided for all the safety lockers for easy operation and avoids any risk of keys loss.
At request, we can install various storage spaces:
Safety lockers and storage trunks
Tack boxes
Hydraulic cupboards
Visit our section Safety lockers and Tack boxes
We install efficient technical equipments for a perfect autonomy and comfort:
Power plant with automatic charger and general circuit breaker for energy production,
Important water supply 100 and 1000 liters, tank for waste water,
Embarked electrical generator,
Hig flow water pump,
Gas or diesel central heating,
Air conditioning,
Rear view camera, satellite dish, fire alarm, automatic extinguishers,…
We stay to listening to our customers for installing any other desired specific equipment.
Living accomodation areas and private apartments
The layout and fitting-out of the living space vary depending our client's wishes and needs. There is no pre-established standard.
Our team brings together all the crafts men needed to designing and making your tailor made to order truck: coachbuilder, electrician, plumber, heating specialist, carpenter, and also upholster for the various fittings, curtains and cushions that are used in the decoration of our clients' apartments.
The living area can be noticeably enlarged thanks to pop out extensions. This option is very popular among our clients. These hydraulic extensions are extremely reliable. They are easy and fast to operate and they can be installed on both lateral sides of the chassis.
The layout of the living area depends on the presence or not of this extension option:
The Relaxing space makes no difference with a home lounge. Our skilled craftsmen will set a high standard environment which perfectly matches your individual tastes and style. The clients can choose from an extensive range of high quality fabrics and leathers then specify exactly the interior style they want. The comfort and leisure equipments are installed at your discretion: TV, Home Cinema, Hi-Fi, internet link, reversible heating / air conditioning, etc.
The Kitchen space is fully functional and fitted with fridge, freezer, micro-wave, sink, hotplates, oven and various cupboards and cabinets depending upon the size of the truck.
The Bedroom space consists of 2 sleeping positions in the extension over the cabin, single sleeping position above the lounge entrance with the sitting area that can be transformed into a sleeping area.
The bathroom space offers shower with washbasin, electric toilet, several cupboards, and teak wood floor. It is also possible de separate the toilet from the shower space.
We provide samples for the selection of furniture, flooring, fabrics and finishes.
You can also look at our book of recent works and fittings to give you a taste about the extensive range of interior treatments that we can offer to meet your interior refinement desires.
At last, we do research to answer your very specific needs and we try to bring you satisfaction according to technical feasibility.
Visit our section Living space – Private apartments
From your initial requirements, we provide you with a first estimate which may change depending on different options chosen afterwards.
We give detailed quotation. After your order to launching the building of your costum truck, you can still select new options that will be quoted in real time.
Being a human-sized specialist business we have all the advantages of being able to change quickly, listen to our clients and demonstrate our passion for what we do.
Our mantra is to do our best to meet our customers' requirements and satisfy their desires.
Paillard makes available his engineering capability and his high level know-how in manufacturing horsebox trucks and motorhome trucks for carefully studying your project and for meeting your specific requirements.